Archive for the 'Nail biters' Category
Sixteen-year-old Cara Lange has been a loner ever since she moved away from her best and only friend, Zoe, years ago. She eats lunch with the other girls from the track team, but they're not really her friends. Mostly she spends her time watching Ethan Gray from a distance, wishing he would finally notice her, and avoiding the popular girls who call her "Choker" after a humiliating incident in the cafeteria.
Then one day Cara comes home to find Zoe waiting for her. Zoe's on the run from problems at home, and Cara agrees to help her hide. With her best friend back, Cara's life changes overnight. Zoe gives her a new look and new confidence, and next thing she knows, she's getting invited to parties and flirting with Ethan. Best of all, she has her BFF there to confide in.
But just as quickly as Cara's life comes together, it starts to unravel. A girl goes missing in her town, and everyone is a suspect—including Ethan. Worse still, Zoe starts behaving strangely, and Cara begins to wonder what exactly her friend does all day when she's at school. You're supposed to trust your best friend no matter what, but what if she turns into a total stranger?
Since a deadly virus and the violence that followed wiped out his parents and most of his community, Finn has lived alone on the rugged coast with only his loyal dog Rowdy for company.
He has stayed alive for two winters—hunting and fishing and trading food, and keeping out of sight of the Wilders, an armed and dangerous gang that controls the north, led by a ruthless man named Ramage.
But Finn's isolation is shattered when a girl runs onto the beach. Rose is a Siley—an asylum seeker—and she has escaped from Ramage, who had enslaved her and her younger sister, Kas. Rose is desperate, sick, and needs Finn's help. Kas is still missing somewhere out in the bush.
And Ramage wants the girls back—at any cost.
The twins have been reunited, but are definitely not out of danger…
Evil Miss Fox may have fled the scene, but headmaster Mr Bartholomew is back, imposing a reign of terror with his threats of epic punishments should any of the pupils step out of line.
When possessions and food start going missing, and the finger of suspicion is pointed firmly at troublemaking Scarlet, she knows she must uncover the truth to clear her name. The twins' investigations through the school in the dead of night reveal a secret hidden deep within the walls, a terrible crime committed many years past, and a very real threat to their present…
Scarlet and Ivy's school trip takes a turn for the worse as another mystery begins to unfold…
It's summer and as a special treat after the horrors of last term Mrs Knight announces a school trip to Shady Pines Hotel on the shores of Lake Seren. Scarlet and Ivy are thrilled to get away from Rookwood for a break!
But the old hotel and the waters of the lake reservoir are covering up dark secrets. And when mysterious things start happening to hotel guests it seems that a malicious new threat is haunting the girls.
Locals say that at night you can hear the ringing of the church bells and see lights under the lake, that troubled souls buried in the flooded graveyard no longer rest…
With their evil headmaster, Mr Bartholomew, safely out of the picture and kindly Mrs Knight in charge, it looks like life at Rookwood School is looking up. There's a ballet recital Scarlet is desperate to star in, and more clues to uncover about the twins' mother.
But after their beloved ballet teacher Miss Finch suddenly disappears and strange Madame Zelda takes her place, freakish things start happening. Poison letters are circulating the school, and 'accidents' are plaguing the students. It seems that the girls are in danger once more…
Is someone out for the ultimate revenge?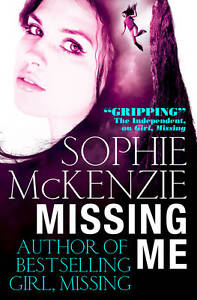 Six years have passed since the end of Sister, Missing and Madison is now a teenager. During a visit to her older sister Lauren, Madison learns that their biological father was an anonymous sperm donor and sets out to track him down. Her search bears fruit sooner than she expects, but is the father she discovers all he seems? As Madison gets drawn into a mysterious investigation involving missing girls and secret hideaways, she finds herself in more and more danger.
Fighting back my rising panic, I stopped and took a deep breath. Think. Where could she have gone? I turned right around, looking in every direction, trying to spot the familiar silhouette of my sister. But there was no sign of her…
It's two years after the events of Girl, Missing and life is not getting any easier for sixteen-year-old Lauren, as exam pressure and a recent family tragedy take their toll. Lauren's birth mother takes Lauren and her two sisters on holiday in the hope that some time together will help, but a few days into the holiday one of the sisters disappears, under circumstances very similar to those in which Lauren was taken years before. Can Lauren save her sister, and stop the nightmare happening all over again?