Archive for the 'Girl power!' Category
Twelve-year-old Libby Monroe is great at science, being optimistic, and talking to her famous, accomplished friends (okay, maybe that last one is only in her head). She's not great at playing piano, sitting still, or figuring out how to say the right thing at the right time in real life. Libby was born with Turner Syndrome, and that makes some things hard. But she has lots of people who love her, and that makes her pretty lucky.
When her big sister Nonny tells her she's pregnant, Libby is thrilled—but worried. Nonny and her husband are in a financial black hole, and Libby knows that babies aren't always born healthy. So she strikes a deal with the universe: She'll enter a contest with a project about Cecelia Payne, the first person to discover what stars are made of. If she wins the grand prize and gives all that money to Nonny's family, then the baby will be perfect. Does she have what it takes to care for the sister that has always cared for her? And what will it take for the universe to notice?
When Scarlet and Ivy return to school after the holidays, they quickly realise that the school is in danger. The twins will need to confront enemies from their past and present if they are to have any chance of it surviving. Could the last secret at Rookwood be the one that brings it down? Or will Scarlet and Ivy be able to untangle the trails of clues and red herrings in time to save it?
The nation of Panem, formed from a post-apocalyptic North America, is a country that consists of a wealthy Capitol region surrounded by 12 poorer districts. Early in its history, a rebellion led by a 13th district against the Capitol resulted in its destruction and the creation of an annual televised event known as the Hunger Games. In punishment, and as a reminder of the power and grace of the Capitol, each district must yield one boy and one girl between the ages of 12 and 18 through a lottery system to participate in the games. The 'tributes' are chosen during the annual Reaping and are forced to fight to the death, leaving only one survivor to claim victory.
When 16-year-old Katniss's young sister, Prim, is selected as District 12's female representative, Katniss volunteers to take her place. She and her male counterpart Peeta, are pitted against bigger, stronger representatives, some of whom have trained for this their whole lives. She sees it as a death sentence. But Katniss has been close to death before. For her, survival is second nature.
This is the story of how I became my sister…
A spine-tingling mystery set in a creepily atmospheric boarding school. Ivy must uncover the secrets behind her twin sister Scarlet's disappearance before it's too late.
When troublesome Scarlet mysteriously disappears from Rookwood School, terrifying Miss Fox invites her quiet twin sister Ivy to 'take her place'.
Ivy reluctantly agrees in the hopes of finding out what happened to her missing sister. For only at Rookwood will Ivy be able to unlock the secrets of Scarlet's disappearance, through a scattered trail of diary pages carefully hidden all over the school.
Can Ivy solve the mystery before Miss Fox suspects? Or before an even greater danger presents itself?
Hey, buster! Normal life is a total yawn. Break out of boredom with Ruby Redfort, the super-awesome new creation from multi-million-copy bestseller Lauren Child…
Want to know more? Of course you do, bozo.
Here's the low-down on Ruby Redfort: she's a genius code-cracker, a daring detective, and a gadget-laden special agent who just happens to be a thirteen-year-old girl. She and her slick side-kick butler, Hitch, foil crimes and get into loads of scrapes with evil villains, but they're always ice-cool in a crisis.
Amazon
Ruby Redfort has a lot of reasons to feel confident. Undercover agent, code cracker, thirteen-year-old genius—she's one fearless kid, buster. Unmasking an evil villain? Done. Honing her parkour skills by climbing skyscrapers and leaping across roofs? All in a day's work. Heeding the warning signs? Well, not so much. When a ghostly foe begins stealing from the highest buildings in Twinford, Ruby Redfort is ready to defy death one more time to capture the bandit. But fearlessness can lead to taking risks, which can land a person in very serious trouble. While Ruby may think she's invincible, there's truth to the saying that recklessness always comes before a fall.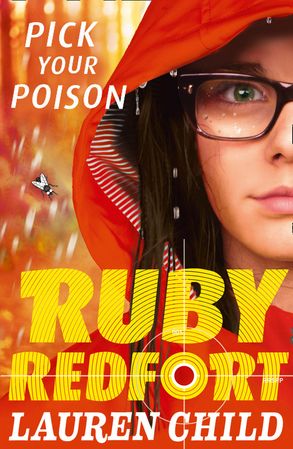 Ruby Redfort: undercover agent, code-cracker and thirteen-year-old genius – you can count on her when you're between a rock and a hard place.
There's a lot to lose sleep over in Twinford: there's the snakes and the bivalves, but they aren't half as poisonous as the rumours. With so many twists and turns it's hard to know who to trust, particularly when no one trusts you. Will Ruby make it out in one piece? Well, happy endings are for fairy tales, bozo.
Say goodbye to Ruby Redfort: every smart kid's smart kid. The mind-blowing conclusion to the thrilling series by award-winning author Lauren Child.
Ruby Redfort: undercover agent, code-cracker and thirteen-year-old genius – you can count on her when the ice starts to crack.
All good things come to an end… Ruby Redfort is running scared, a whole bunch of people want her dead and worst of all one of them is on her team. But just who is this agent of doom?
You can run, Ruby, but you can't hide…