Archive for the 'Girl power!' Category
Three girls, Molly, Gracie and Daisy, are "half-caste" Aboriginal youngsters living together with their family of the Mardu people at Jigalong, Western Australia.
One day a constable, a "Protector" in the sense of the Act, comes to take the three girls with him. They are placed in the Moore River Native Settlement north of Perth, some 1,600 kilometres away. Most children this was done to never saw their parents again. Thousands are still trying to find them.
This story is different. The three girls manage to escape from the torturing and authoritarian rule of the settlement's head. Guided by the rabbit-proof fence, which, at that time ran from north to south through Western Australia,they walk the long distance back to their family.
The nation of Panem, formed from a post-apocalyptic North America, is a country that consists of a wealthy Capitol region surrounded by 12 poorer districts. Early in its history, a rebellion led by a 13th district against the Capitol resulted in its destruction and the creation of an annual televised event known as the Hunger Games. In punishment, and as a reminder of the power and grace of the Capitol, each district must yield one boy and one girl between the ages of 12 and 18 through a lottery system to participate in the games. The 'tributes' are chosen during the annual Reaping and are forced to fight to the death, leaving only one survivor to claim victory.
When 16-year-old Katniss's young sister, Prim, is selected as District 12's female representative, Katniss volunteers to take her place. She and her male counterpart Peeta, are pitted against bigger, stronger representatives, some of whom have trained for this their whole lives. , she sees it as a death sentence. But Katniss has been close to death before. For her, survival is second nature.
In Beatrice Prior's dystopian Chicago, society is divided into five factions, each dedicated to the cultivation of a particular virtue—Candor (the honest), Abnegation (the selfless), Dauntless (the brave), Amity (the peaceful), and Erudite (the intelligent). On an appointed day of every year, all sixteen-year-olds must select the faction to which they will devote the rest of their lives. For Beatrice, the decision is between staying with her family and being who she really is—she can't have both. So she makes a choice that surprises everyone, including herself.
During the highly competitive initiation that follows, Beatrice renames herself Tris and struggles to determine who her friends really are—and where, exactly, a romance with a sometimes fascinating, sometimes infuriating boy fits into the life she's chosen. But Tris also has a secret, one she's kept hidden from everyone because she's been warned it can mean death. And as she discovers a growing conflict that threatens to unravel her seemingly perfect society, she also learns that her secret might help her save those she loves . . . or it might destroy her.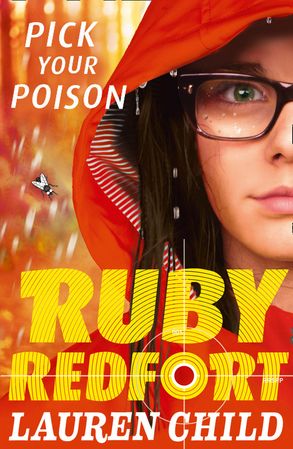 Ruby Redfort: undercover agent, code-cracker and thirteen-year-old genius – you can count on her when you're between a rock and a hard place.
There's a lot to lose sleep over in Twinford: there's the snakes and the bivalves, but they aren't half as poisonous as the rumours. With so many twists and turns it's hard to know who to trust, particularly when no one trusts you. Will Ruby make it out in one piece? Well, happy endings are for fairy tales, bozo.